03: The Crew
Between The Lines - Ch 07: The Team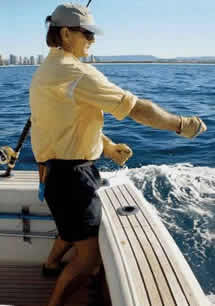 The crew is the team's position of action and the cog in the wheel that makes the whole system work. You can have a novice angler that has never caught a fish before and a skipper that has never driven before, but it is very difficult to be in with a chance using a crew that has no experience.
Many aspects of game fishing can be learnt with shore-based exercises. The position of the crew, more than any other, needs most of their training to be on the water, with battle experience to attain a reasonable level of competence. Very successful crews have often had experience in many forms of fishing and have crewed in many of the world's fishing hotspots working with other crew members under various skippers. Often crew do an apprenticeship as 'second deckie' over a fishing season before taking on the job as a 'number one'.
Some of the tools and tasks of the crew are as follows:
As with the angler the way a crew member is dressed can either aid or hinder the outcome of a fight. These points are highlighted in the table below.
Gloves

Hands should be free of jewellery and watches to avoid scratching gear and getting caught up in lines and traces. Gloves should be used whenever handling tagging, gaffing and when handling traces with fish on. Personal choice will dictate which type of gloves you prefer.

Cutters

The type of cutters worn on the belt should be in a position that can be reached by either hand in an emergency. They should be kept well oiled. As they are used for emergencies the crew should be able to use them quickly without looking at them.

Footwear

Footwear should be sturdy, non-slip and be worn at all times.
Hat

The hat or cap is great for keeping the sun out of the eyes and ducking any spray to protect eyes and sunglasses.

Glasses

Polaroid sunglasses are preferable and great for seeing that first colour of a fish. Glasses also protect the eyes if anything breaks and recoils back into the face.

Safety Straps

Save losing hats and glasses by attaching them to clothing via clips.

Clothing

All loose clothing should be either rolled up or tucked in to avoid getting caught in the tackle or harness and belt buckles if they need adjusting during the fight.
The crewman is the person who sets the gear up, ensuring the gear is in top condition such as servicing and maintaining reels, rods, line, drag settings, leaders, knots and sharpening hooks etc. In fact, everything that is likely to be used in a day's fishing.
Part of the job is rigging whatever is used from top shots to lure rigs, bill ropes to doubles.
Not only does the crewman get much of the gear ready that is used by others (such as the angler), he also ensures the tools he uses are in top condition and ready, such as lubricated pliers for emergencies, sharpened gaffs and loaded tagpoles.
He also ensures equipment, such as fighting belts and harnesses are adjusted and ready, tracing gloves, tagpoles and gaffs are all within easy reach when needed.
It is also part of his job to have an intimate knowledge of how to use all the gear involved in the day's fishing as it is he who will have to advise the angler how to use their gear if necessary and then trace and tag the fish, in fact, take charge of most of the action once the leader is within reach.
The crewman is also the most social of the crew and must have an ability to communicate effectively - and not just funny stories and fishing reports. This skill cannot be overemphasised as the ability to communicate is the link between angler and skipper. This is achieved both vocally and with hand signals, so long as all terminology and signs are understood by all members of the crew. Once again these should be practised or at least discussed before an event requires them.
Perhaps the most important job of the whole team and certainly the crewman is looking and seeing. Good eyes trained at spotting the signs of the likely presence of fish is a skill that can take many years to develop. Many of these signs are easier to spot from deck level rather than in the tower or bridge. A crew that scans the ocean forward and to the sides of the boat is a valuable asset to any team.
Although watching to make sure the lures are working properly or tuned into position or if there is any action around them is certainly exciting and is a part of the crewman's job, these are far easier to spot by the skipper in the bridge or tower.