Aussies Win '96 HIBT
Club Marine September 1996 By Captain Rick Gaffney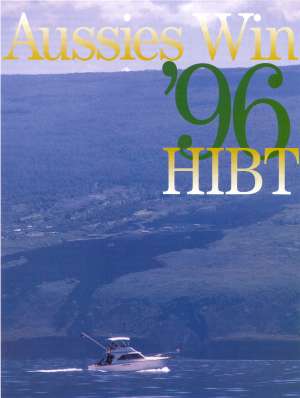 In 37 years, no foreign team had ever won the Hawaiian Invitational Billfish Tournament (HIBT) more than once.
On August 16,1996, the Gamefish Club of South Australia won the prestigious event for the second win this decade, after catching and then tagging and releasing four billfish on 50 pound test line, including one caught by 87-year-old angler Bill Coombs. Team member Peter Pakula's Australian lures caught three of the team's four billfish.
If you asked John Johnston, Bill Coombs, Graham Hart and Peter Pakula, the four members of the victorious Gamefish Club of South Australia team, they would attribute their successful tournament performance in the 38th Annual HIBT to good luck.
"First we had the good luck to hook four billfish," said team captain John Johnston, "and then we were lucky enough to get all four of them to the boat.' Johnston is the only angler in history to best three different species of game fish over 1 000 pounds in weight - a shark, a billfish and a tuna.
Other teams booked more fish than the Aussies, but none were successful in landing as many. The one fish lost by the second-placed Fun Birds of Baloba kept that Hawaiian team from gaining enough points to win the event despite their capture of a 555- pound Pacific blue marlin, the largest of the competition.
The Aussies' good fortune went beyond fooling four billfish when other teams couldn't hook any. They also managed to get at least one poorly hooked fish to the boat. BW Coombs, who anchored the South Australia team's previous win back in 1990, quickly landed his tournament fish, but as it was tagged for release and his points were officially scored, the hooks literally fell out of the fish.
The octogenarian Australian has been the centre of attention in several HIBTS. In the 1990 event, he almost single-handedly won the tournament for the Gamefish Club of South Australia as one by one his team mates were incapacitated and unable to fish. He was 81 at the time.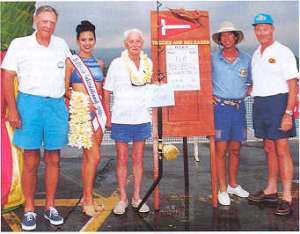 On the third day of this year's competition, Coombs fished with 84-year-old Captain Ed Isaacs on the 33ft Bertram Anxious, and guided the fighting chair while 78-year-old team captain John Johnston battled a blue marlin for 300 of the 600 tag-and-release points scored that day. That was nearly 250 years of life experience, wrapped up in three very competitive game fishermen, working together as an effective three-man team.
Lure maker Peter Pakula, a member of the winning Australian team, was lucky enough to have three billfish inhale three different Pakula lures in the course of the team's fishing week. The Pakula Lumo Sprocket, Evil Animal and Fire Scad Chatterbox lures caught fish for the South Australian team. Pakula lures fished on other team boats proved productive as well.
Another lure makers, Marlin Parker, had tallied three fish on his Marlin Magic lures for the various tournament teams that were fishing with him the first three days, and on the Thursday the two lure makers wound up fishing together on Parker's 43ft charter boat the Marlin Magic. Each of the lure makers chose to run two of their most productive lures in the flat wake of the 43ft Allied sport-fisher, and they hooked then tagged and released a marlin for Bill Coombs, on - to everyone's surprise - a red, white and blue-skirted Japanese jet lure!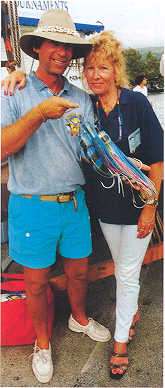 "We figure the two Pakula's and the two Marlin Magic lures in our wake raised the fish, but the fish took the old stand-by bicentennial jet-head," Parker said, somewhat incredulously. It was the second fish Parker had caught on that jet lure during the event. Parker finished the tournament as the second highest point scoring charter boat captain, behind Captain Chris Rose on the 44ft Pacemaker Aerial.
Meanwhile, lure makers Joe Yee's Super Plunger lures were catching as many fish as any in the tournament, according to the HIBT's Chief Judge, Peter Goadby of Sydney. Yee's famed Super Plunger accounted for the biggest fish in the competition, the 555-pound blue marlin taken by the Fun Birds of Aloha.
Unfortunately, lure makers Joe Yee had little luck himself. Yee and the Pajaro Valley Gamefish Club, who he fishes with each year, went fishless until the last day, when he caught an inconsequential yellowfin tuna.
The Balboa Angling Club of California scored three marlin, adding up 991 tournament points for a third-place finish. The Moana Kai Fishing Club team No. 2 from Hawaii (last year's winning club) and the PORF 96 Mandarins Fishing Club of Hong Kong both had doubleheaders on one day and then came back to catch and release an additional fish to give them 900 tournament points and spots in the top ten.
The Moana Kai 96 Tournament Team from Hawaii and the Ngawi Sportfishing Club of New Zealand scored their respective fourth and fifth place points by virtue of catching only two fish, but they caught each of their billfish on 50 pound test "e, and also benefited from 1 00 bonus points for being lucky enough to take the largest fish captured that day. Other teams with similar catch records were either not lucky enough to get the bonus points, or happened to catch one or more of their fish on the only 80-pound class outfit, garnering fewer tag and release points.
The Lizard Island Gamefishing Club of Australia scored 600 points for a pair of fish tagged and released by Mark Startley and Stephen Fleming, ending up in ninth place overall, while the New South Wales Game Fish Association scored 600 points a bit later in the competition to place 14th overall. The Moreton Bay Game Fish Club out of Brisbane scored two tagged fish for 550 points and 22nd place overall. The Fremantle Sailing Club of Australia had two tagged and released fish, one by team captain Mark Maher, an IGFA world record holder from Western Australia. Unfortunately, Fremantle's fish were both caught on 80-pound class gear which put them in 24th place in the final tally.
Successful tournament game fishing definitely requires a large measure of luck, a factor that Dr Mare Miller, a cultural anthropologist focusing on HIBT fishermen described as an "action gamble," but successful game fishing tournaments require a lot more than a bunch of lucky anglers coming together, and the 38th Annual HIBT was a paean to successful tournaments.