Lord Of the Lures
Dean Butler profiles Peter Pakula, one of Australia's most innovative and successful Lure Makers from The Fishing World 1998 Great Lure Guide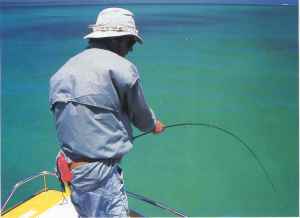 The biggest fish I ever clapped eyes on was a Pacific blue marlin, estimated by guys who know these things to be more than 550kg or upwards of 1200 pounds. It first reared its massive head behind a spread of Pakula lures way back from the boat, moving in on the long left outrigger. When the skipper yelled, "Big fish on the left" I focused on a dorsal fin that blew me away with its sheer bloody magnitude.
Needless to say, the Pakula Evil Animal is one of my favourite trolling lures when big marlin are the target. That blue leviathan had swooped on it as surely as a cannibal on a missionary. My best fish on one so far is a 237kg blue marlin, and patterns centred around that lure have seen countless fish fooled over the years - not just by me, but by anyone remotely interested in catching billfish on lures. Gold Coast-based Peter Pakula, the creator of the famous range of Pakula trolling lures, is hardly an overnight success story - the bloke's been hard at it for a long time - but his is an inspirational story that should be of interest to fishermen, lure makers and lure users Australia wide.
It wasn't so many years ago that we didn't have a great deal to choose from when it came to buying lures. Up to 90 percent of that available in most tackle shops was imported stuff, and seldom just what you wanted. A lot of them were overseas freshwater lures being sold for use in Australian saltwater. With these, connections, components and terminals such as rings and hooks were often weak links that were going to let you down.

As the demand grew for stronger products made for Australian conditions, so did the number of backyard lure makers committed to developing quality products geared for our fishing requirements. These days a good tackle shop will have a huge selection of homegrown goodies built both to catch our fish and to last. Some of the operations that are now more than mere cottage industries include Reidy, Lively, Kilialure, PMG Scorpions, Leads and Halco - to name just a few. Most of these guys have a couple of things in common - their products are predominantly bibbed or bibless hard-bodied plugs and lures designed for Australian fish and fishermen. Apart from maybe one or two, they are made for sale and use in Australia only.
In the evolution of the Aussie-made lure industry, Peter Pakula has always been a progressive and inspiring figure, his locally made products recognised and sought after well beyond our shores, wherever big fish are targeted. It's no exaggeration to say that his name has become synonymous with billfish trolling lures. A lot's been written about him over the years, more than any other single Australian angler or lure manufacturer, for the very good reason that his products get results.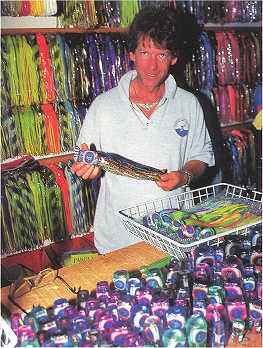 If tournament wins are the ultimate gauge for successful lures, Pakula's worldwide triumphs are staggering and too numerous to list. Highlights include all of the major Australian big game competitions and a great many of the leading US tournaments. Pakula lures have accounted for more than $2 million in prize money over the past five years and to top it off they caught the winning fish at the last two Hawaiian International Billfish Tournaments. Pakula himself was a member of the winning team at the 1996 HIBT.
During the past 10 years, Pakula lures have been the only foreign lures sold in Hawaii - a marketing feat akin to selling ice to Eskimos as Hawaii is generally regarded as the birthplace of billfish lures. In recent times, those HIBT wins really made the Big Kahunas take notice, so much so that Pakula's have been named the Official lure for this year's 40th Anniversary HIBT.
In my travels, I've often been asked where Peter has his lures made and I've gotten more than a few surprised looks when I tell people the facts. Pakula lures are all personally built by Peter Pakula, his wife Jo - a very spirited partner in life and business - and son Len in their Runaway Bay home. Here the original garage based factory has gradually spilled its contents throughout the house, turning it into a sort of wild cross between a spread for Belle magazine and an exploded tackle shop. Peter's spectacular array of trophies and tributes just add to the extraordinary atmosphere. Design, manufacturing and the rather eye-catching brand of Pakula marketing all comes together in this proverbial hive of activity, with the trio often working around the clock to produce huge numbers of lures for the world game fishing market. Lure heads are made 100 percent in-house, and the skirts are custom made to order from Sevenstrand in the US.
Like the world's best rod builders, lure manufacturers who make it in the game who have one thing in common - they do a lot of fishing and they're damned good at it. Pakula builds marlin lures and he catches a lot of marlin, but his skills as a fisherman go well beyond blue water and big fish. He's an accomplished fly caster who's caught everything from thumping big brown and rainbow trout in NZ to the wily golden trevally of the Hervey Bay flats. He's also been a member of the winning visitors 'team at the prestigious NT Barra Classic, his "barra on a stick' trophy taking its place among the slew of billfish awards.
For fun in his home waters, he loves catching big flathead on lures, claiming plenty over the 10-pound mark, and targeting bass in the dams and cobia on the inshore reefs. For the records, he's been actively fishing for most of his life, game fishing for more than half of it.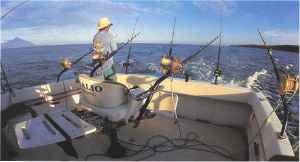 A laconic personality who's well known for not suffering fools, Pakula has little time for anyone who remarks on his "overnight success" in the billfish lure game or for those who reckon he's a lucky bastard to have cracked the international market. Like the Thomas Edison line about success being one percent inspiration and 99 percent perspiration, Pakula has been working non-stop at his craft and its marketing for many years. He started building lures in 1977 and it's been his official business since '87. With all the perspiration though, there can be no taking away from the inspiration. Over the years Pakula has devised and developed many of the things that are today considered standard in the world of lure trolling. just two such inventions include the original "Witchdoctor Teaser" and the "Shackle Rig'. Along the way, he's also been credited with revolutionising small boat game fishing, streamlining mini-game boats that have allowed him to single-handedly catch many fine fish up to nearly 400 pounds.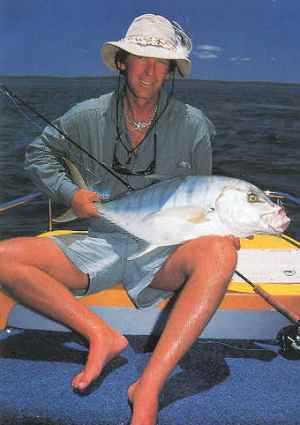 He's also the author of the book Pakula Unlocking the Seacrets and has featured in many videos as well as being a regular on all of the current TV fishing series. Sharing his knowledge and expertise in workshops or Pakula Schools has been a source of ongoing pride, and he'll readily quote with satisfaction the improved results his students recorded during and after the teaching trips, he's hosted locally and internationally. Pakula has always led the way in lure development with his choice of shapes, colours and materials. The family tree began with solid coloured soft heads and homemade tapered "slap skirts". These lures were great, but the urethane used for the heads proved unsuitable for larger scale production.
The next generation of his lures looked remarkably similar to the previous soft heads but were made of polyester resin, a hard material. The first of these hard heads had hand-cut flat skirts; then, as business increased, Pakula went to Yo-Zuri skirts, which he used until 1995 when YoZuri changed manufacturers, leading to a downturn in supply and quality. At this time Pakula started working with Sevenstrand USA to create a range of customised skirts to suit his lures. The result is considered state-of-the-art in bill fishing circles. In mid-1996 Peter and Jo Pakula wanted to do something special for the company's 1Oth anniversary and came up with the idea of 100 original tinted clear soft heads. If you know anything about trolling lures, you'll realise that this anniversary limited edition went on to become the current Pakula SOFTease range of lures which has taken the worldwide game fishing scene by storm.
I was managing Erskine's Tackle in Cairns when Peter first showed me the SOFTease lures. As usual, quality of workmanship was second to none and I had to squeeze them a few times, amazed at how much they looked like the resin heads but were soft. At that time he was already selling the lures overseas (in fact 70 percent Pakula's business is offshore) and I was eager to get them on to some of the local Cairns game fishing boats for the 1997 heavy tackle marlin fishing season. The results were simply sensational. The first grander of the season - a fish of 1186 pounds - was taken on a Pakula Lumo Sprocket by Don Gull, aboard Mouna Kea skippered by Captain Dean Beach. It was the biggest fish ever taken in Australia on a lure and turned out to be the biggest marlin for the big fish season.
Bill Billson, the renowned skipper of Viking 11, liked the Lumo Sprocket so much he trolled three in his spread for much of the 1997 season. He hooked some huge fish on them, but through some bad luck and shark attacks, he only got one back to the boat in one piece. One that was hooked on the Pakula lure but sharked was estimated to be better than 1200 pounds. His best landed of the season weighed 1133 pounds - taken on a Pakula Lumo Sprocket.
The fact speaks for themselves. Twenty years into the game and the Pakula phenomenon keeps gaining momentum, with constant new developments and international marketing inroads further underlining the accomplishments of this pretty remarkable homegrown operation.
If you're just starting out in the quest for billfishon lures, or you've been trying for a while with mixed results, you could do a lot worse than tapping into the Pakula reservoir of knowledge and experience to improve your results.